Poulias Ioannis SMPL Company offers I.P.M (Integrated Pest Management) for the protection of buildings, products and industries from pests. Our company is one of the top-leading Greek companies in pest control field.
Our Services:
Insects and Rodents Control Services
Modern equipment and formulations for the professional pest control.
Parasites' Identification, surveys & organizing of pest control system, staff training.
The company operates since 1989, established in Piraeus with branches in both Patra and Thessaloniki, thus, it offers its services nationwide. Poulias Ioannis SMPL is a member of greek Pest Control Companies Association (S.E.A.M.E.).
The pest control program is planned and supervised by a Scientific Team which is consisted of experienced and qualified Chemists and Agronomists. Our clients are the major-leading food processing industries, food & beverages chains, Super Markets etc.
With emphasis and respect to the field of Food & Beverages, our services are performed in accordance with:
The prerequisites of manuals of Good Manufacturing Practice (GMP) and Good Hygiene Practice (GHP).
The Food Safety and Hygiene Management Protocols (E.U. regulation 852/2004 for the Food Safety, H.A.C.C.P., EN ISO 22000).
The Special Systems of Food Safety Standards BRC, IFS, AIB etc.
Each of our clients' individually Quality Policy.
Our company also applies:
The Quality System BS EN ISO 9001:2008
The Environmental Management System BS EN ISO 14001:2004
The Health & Safety at Work Management System OHSAS 18001:2007
The certification body of all the 3 Quality Systems, is the company Lloyd's Register Quality Assurance.
Furthermore, Poulias Ioannis SMPL conforms with the operational rules of SEDEX, in accordance with the requirements of  SMETA – 4 pillar audit. For the compliance with the requirements of all these 4 pillars (Working Relationships, Hygiene & Safety at Work, Environmental Protection, Business Ethics), our company has received a Letter of Conformity, upon inspection of Bureau Veritas Hellas S.A. in order for the Poulias Ioannis SMPL company to meet the "Nestlé Responsible Sourcing Audit Program" criteria.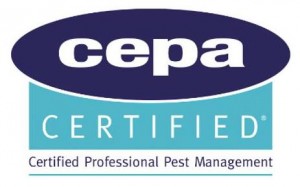 Poulias Ioannis SMPL  is among the first European companies to be registered as CEPA CERTIFIED.
This certifies the compliance of our services with the requirements of European Standard EN 16636 for Pest Management Services. The Certification Body is Bureau Veritas Hellas SA.